Tips to stay on track with your diabetes care plan
Whether you have taken another insulin or are just starting insulin, understanding how to manage your diabetes is the key to reaching your diabetes goals. The right tools and the right knowledge can help you get there, one day at a time.

Make smart, nutritious choices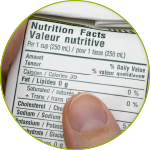 Read food labels.
You'll want to pay attention to serving size and carbohydrates when managing your blood sugar. Join Cornerstones4Care® and find nutritional values with a helpful food lookup tool. Sign up today!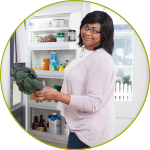 Look for healthier foods.
Try to choose foods that have less refined sugar and simple carbohydrates. Keep in mind that a sugar-free product may have the same amount of carbohydrate grams as its standard version.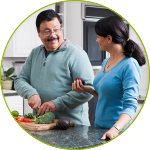 Control portions.
Check food labels to see the ideal portion size, as it could be less than you usually eat. Be sure to compare the serving size with total servings. The sizes on the label may not be the same as those in your meal plan.
A dietitian can help you create a meal plan that includes more healthy options to fit your lifestyle.

Get some physical activity every day
Exercise doesn't have to be overwhelming
Activities like walking the dog, cleaning the house, and washing the car can be part of your daily exercise routine. When you are active, your cells become more sensitive to insulin, so the insulin can work more efficiently. Exercising, even in smaller increments, can help lower blood sugar and improve your A1C.
For example, you could:
Replace a coffee break with going for a walk
Walk around while on the phone instead of staying seated
Use the stairs at work instead of the elevator
Stretch while watching TV instead of lounging
For more support, talk with your health care provider who can recommend good ways to stay active.

Stay on top of your blood sugar with these tips and tools
Check in before you get active
Talk to your health care provider about your exercise routine. Depending on your level of physical activity, you may need to make changes to your diabetes care plan or adjust the amount of medicine you take.
Physical activity and low blood sugar
Sometimes exercise can cause low blood sugar, also called hypoglycemia. Carry a snack or glucose tablets in case your blood sugar gets too low while being active.
Signs and symptoms to watch out for
Knowing the signs and symptoms of low blood sugar is an important part of managing your diabetes. Be sure to talk with your health care provider if you're concerned about low blood sugar.
Track your progress
Log your blood sugar numbers to share with your health care provider

Get help managing your diabetes and taking Tresiba®
Managing diabetes is a team effort. And we have a caring team of Certified Diabetes Educators (CDEs) waiting to assist you! Sign up for a free support program that offers one-on-one calls with a CDE to help you start off right on Tresiba®, along with personalized online tools and tips to help you meet your diabetes goals.
Working with a CDE
A Certified Diabetes Educator can help you develop the skills to successfully manage your diabetes day in and day out.
When you have a Tresiba® prescription, you will have access to one-on-one telephone calls with a CDE. You may request to be contacted by a CDE or you can call 1-877-246-8910 to talk to a CDE from 9 AM to 6 PM (ET) Monday – Friday.

Check out the Tresiba® Facebook page for more ways to manage your diabetes.