RACE WITH INSULIN®
Tresiba® in the spotlight with
INDYCAR driver Charlie Kimball
RACE WITH INSULIN®
Tresiba® in the spotlight with INDYCAR driver Charlie Kimball


Charlie Kimball is a paid spokesperson for Novo Nordisk.
Carlin Racing is sponsored by Novo Nordisk.






Around-the-clock control
As part of his treatment plan, Charlie Kimball takes Tresiba®. With Tresiba®, he gets 24-hour blood sugar control with powerful A1C reduction.




Handling on and off the track
Charlie may drive fast, but he needs his long-acting insulin to release slow and steady throughout the day like the body's insulin does.




Support to stay on track
As part of his care plan, Charlie depends on a supportive team to help him manage his diabetes. Learn about the personalized support you can get through Cornerstones4Care®.


The first licensed INDYCAR driver with type 1 diabetes


Diagnosis didn't slow him down
Charlie Kimball's professional racing career began in 2002. While racing in Europe in 2007, he was diagnosed with type 1 diabetes and forced to halt his racing program midseason. With the help of his family and his health care team, he returned to racing and posted a podium finish in his first race back on the track. He hasn't slowed down since.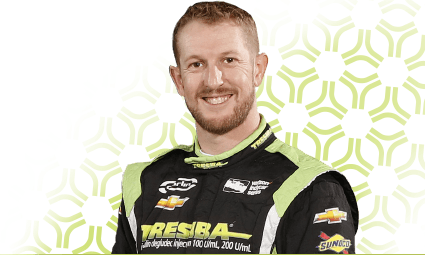 Managing his diabetes
Today Charlie prepares for his races by watching what he eats, exercising, and using Tresiba® as prescribed by his doctor to help control his blood sugar around the clock, along with a mealtime insulin. On the track, Charlie's crew watches his blood sugar levels through a wireless monitoring system. If he needs to, he can sip from a sugar-infused drink system mounted in the car.
Racing to victory lane
Charlie made history in August 2013 as the first driver with diabetes to win an INDYCAR race. In 2014, he won the TAG Heuer "Don't Crack Under Pressure" Award, and in 2015 finished a career-best third place at the prestigious Indianapolis 500. In 2016, Charlie received the Firestone "Drive to the Finish" Award for completing the most laps of any driver during the season (2,066 of a possible 2,070, 99.8%). 2017 marked the 10th anniversary of his diabetes diagnosis.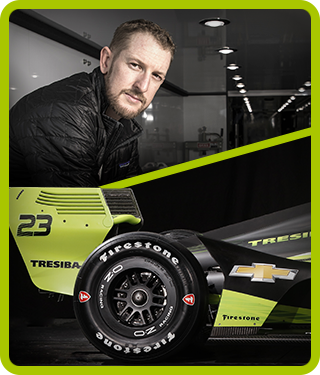 The #23 on Charlie's car represents the year 1923 when the first of 2 Danish companies that merged to create Novo Nordisk was founded—and insulin was produced for the first time.







Charlie Kimball interacts with and keeps his fans regularly updated through @racewithinsulin.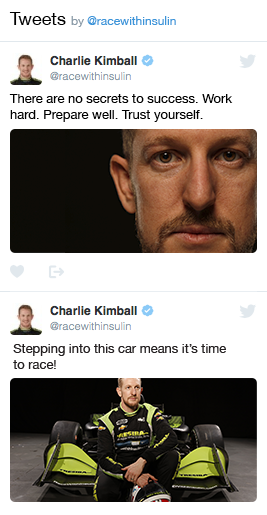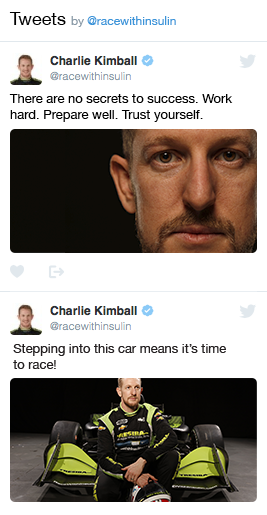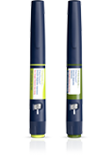 Could Tresiba® be right for you?
It's time for around-the-clock blood sugar control. Learn more about Tresiba® and ask your health care provider if Tresiba® could be right for you.




Get off to a good start
Start on Tresiba® with a helpful plan for your first week. You'll find support information, tracking tools, and more.