FREQUENTLY ASKED QUESTIONS
FREQUENTLY ASKED QUESTIONS



Tresiba® is a long-acting insulin used to control high blood sugar in adults and children as young as 1 with diabetes.
Tresiba® is not for people with diabetic ketoacidosis.
About Tresiba® FlexTouch®
Tresiba® FlexTouch® is our latest advancement in prefilled insulin devices from Novo Nordisk. Tresiba® FlexTouch® has been designed with no push-button extension and offers an audible click when your dose is delivered.a
aAfter dose counter has returned to 0, keep needle in skin for 6 seconds before the needle is removed. If you do not, you may not have received your full dose and you should check your blood sugar levels more often because you may need more insulin. You may or may not hear an audible click at end of dose.
Our Questions for Your Doctor guide can help prepare you for a conversation with your health care provider about taking Tresiba®. Download the guide, print it out, and bring it to your next appointment.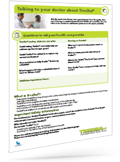 Questions for your doctor
We've prepared some questions to help guide the conversation with your health care provider.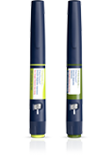 Could Tresiba® be right for you?
It's time for around-the-clock blood sugar control. Learn more about Tresiba® and ask your health care provider if Tresiba® could be right for you.